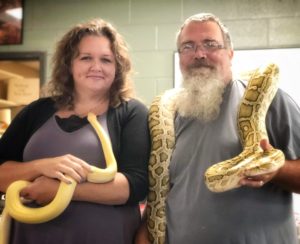 KP Exotics started as a joint effort between Tracy Klotz and his wife Barbara Parks. It has blossomed quickly since 2018 and will continue to grow and expand.
Tracy Klotz is an instructor for the biological sciences department at Arkansas State University. He also works with the Arkansas Center for Biodiversity Collections museum at Arkansas State as the mammal collections manager. Tracy began taking his animals into science classes and at University events in 2015. The students really enjoy the hands-on experience and seeing both large exotic pets and native species up close and personal.
Tracy has been an avid animal lover and nature enthusiast since his childhood, growing up in rural Russell, Arkansas. His first reptiles were those caught in the woods and fields surrounding his childhood home.
Barbara Parks is a long-time animal lover and reptile hobbyist. She had her first exotic pets as a child, a corn snake and a South American Horned Frog, aka a Pacman frog. And so began her passion for all critters different and interesting. Barbara has owned or worked with many species of animals, learning from breeders, vets, independent research, and of course, Tracy.
Contact Us
Email: kpexoticpets@gmail.com
Facebook, Outreach: facebook.com/KPE.Outreach
Facebook, Reptiles: facebook.com/KP.Reptiles.USA
Facebook, Rabbits: facebook.com/kprabbits
Facebook, Snake Snacks & Supplies: facebook.com/SnakeSnacksSupplies
Instagram: @kp_exotics